 Grow Guide
Project Footage Collection Checklist
Get the best marketing footage for your window and door installation company.
Our checklist will help you get the perfect project footage every time.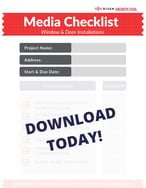 This free guide from Rizen gives you an easy tool for your photographer to collect and document important media assets for every project.
You can market your business like a pro and increase those leads with great footage!
So what are you waiting for? Download our checklist today!
Looking for more window and door installation marketing tips? Read our no-nonsense guide on How to Sell Windows and Doors